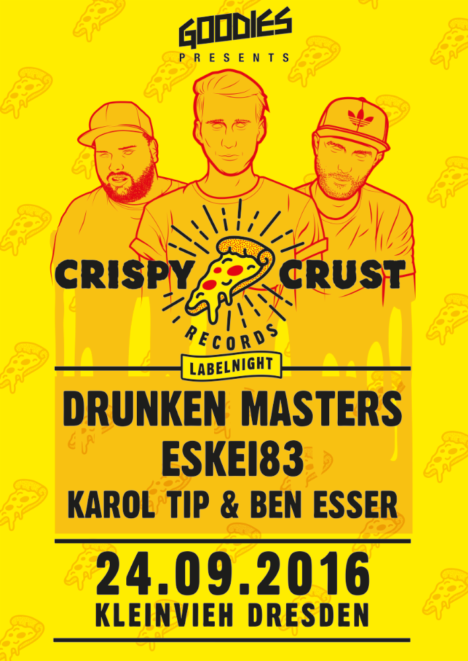 GOODIES – CCR Edition
All the best of Bass Music & Turn Up Sounds: Hip Hop, Trap, Twerk, Moombahton, Electro, Breaks, Grime & Future R&B
TICKETS: hier online bestellen!
ESKEI83
CCR | Dresden
DRUNKEN MASTERS
CCR | München
KAROL TIP
CCR | Augsburg
BEN ESSER
CCR | Hamburg
Sa. 24.09.2016 - Kleinvieh Dresden
Beginn: 23:00 Uhr
Eintritt: 10€
"Crispy Crust Records is a Munich based independent record label focused on delicious music from artists across all genres. For us, sound is like food: savoury, nourishing and spicy. Anyways, you need it to survive. Our HQs are the cuisine where all the flavours come together to form the perfect menu your ears have been craving all your life. With the Drunken Masters and ESKEI83 at its front, Crispy Crust is all set to deliver nothing but fresh sounds made of exotic ingredients and always a healthy dose of bass."
Alles klar? Am 24.09. laden die DRUNKEN MASTERS & ESKEI83 zur 1. Crispy Crust Label Night präsentiert von GOODIES ins Kleinvieh in Dresden. Mit von der Partie sind Ben Esser, der nicht nur durch seinen Song "Love You More" auf sich aufmerksam machte und Karol Tip, ebenfalls fester Bestandteil der CCR-Clique.
Eins ist definitiv klar – Bass und Getränke sind ausreichend vorhanden, Mucke wird definitiv auch stabil und Karten gibt es günstig im Vorverkauf. WKMSNSHG! ;)
#GoodiesDD