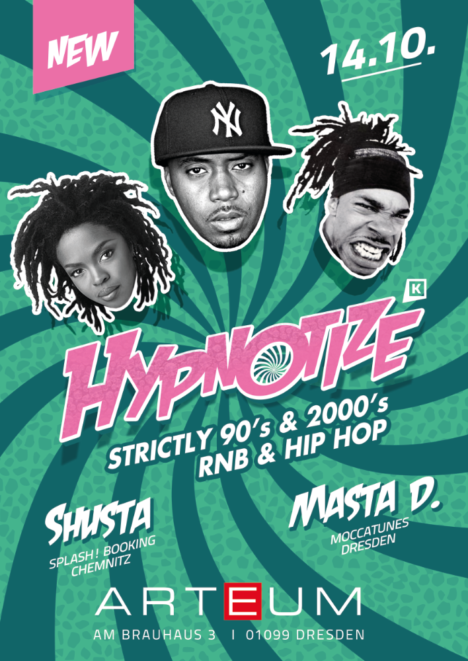 HYPNOTIZE
Strictly 90's & 2000's RnB & HipHop
DJ SHUSTA
splash! Ent. | Chemnitz
DJ MASTA D.
Moccatunes | Dresden
Sa. 14.10.2017 - Arteum Dresden
Beginn: 22:00 Uhr
Eintritt: 8 €
Abwechslung von Cloud-Rap und Trap-Geballer gefällig? Dann ab zur Hypnotize ins Arteum. Ob Nas, Snoop Dogg, Tupac, Biggie oder Missy – hier wird alles gespielt, was in den goldenen Hip Hop und R&B Zeiten auf Rotation lief und nix mit dem EDM-Rap der Neuzeit zu tun hat.Passend dazu stehen mit SHUSTA & MASTA D. zwei DJ's an den Plattentellern, denen man eines definitiv nicht nachsagen kann: fehlende Fachkenntnis. Beide haben unzählige Jahre Club-Erfahrung auf dem Buckel und waren bereits zu jener Zeit gesetzt – ob bei Moccatunes oder Phlatline! ;) Beste Voraussetzungen also für einen Abend mit feinsten Tunes – natürlich strictly 90's & 2000's RnB & HipHop.
Freut euch u.a. auf die Hits von:
Snoop Dogg, The Notorious B.I.G., Tupac, Eminem, Wu-Tang Clan, Sean Paul, R.Kelly, Nas, Jay-Z, N.W.A., Wyclef Jean, Busta Rhymes, Redman, Big L, The Fugees, Mary J. Blige, 50 Cent, Lauryn Hill, Pete Rock & C.L. Smooth, Mobb Deep, Mos Def, Foxy Brown, Aaliyah, Nate Dogg, Puff Daddy, Gang Starr, Ice Cube, Raekwon, Keith Sweat, Missy Elliot, En Vogue, The Roots, Ghostface Killah, O.C., De La Soul, Big Pun, The Pharcyde, TLC, Boyz II Men, Dr. Dre, Pharrell, Ludacris, SWV, KRS-One, Common, Rakim, Cypress Hill, Xzibit, Brandy, Janet Jackson, Ne-Yo, Montell Jordan, Lil Kim, Method Man, Bone Thugs N Harmony, Toni Braxton, Jeru the Damaja, K-Ci & JoJo, Warren G, Camp Lo, EPMD, Ginuwine, Blackstreet, Erykah Badu, Dru Hill, Usher, Destiny's Child, Mariah Carey, M.O.P, Sisqó, Jagged Edge, OutKast, 112, Alicia Keys, Ja Rule, Ashanti, Nelly, LL Cool J, Twista, Kanye West, Bobby Valentino, Mario, Ciara, Chris Brown, G-Unit, A Tribe Called Quest … Get #HYPNOTIZED!
Die Veranstaltung auf Facebook